ähm…in the wind….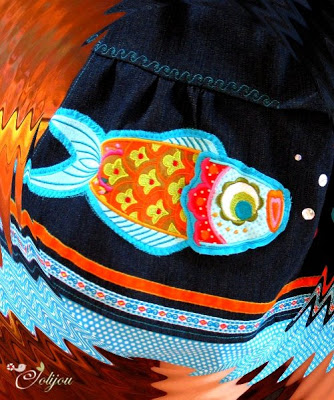 blubb….blubb…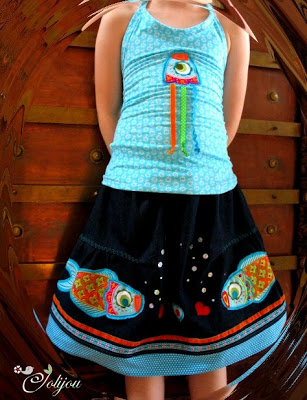 …in the eastwind….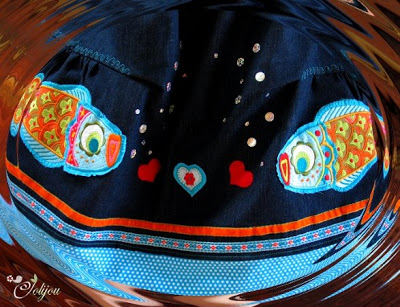 ….boop boop dit-tem dat-tem what-tem chooo…

…and they swam and they swam all over the dam….
…..
Take a dive with Nics asian-inspired fishies in Jeanette's colourful sea as of tomorrow evening…
Nics traumhafte Fische schwimmen ab morgen Abend in Jeanettes buntem Meer…
…..
Nic & Jeanettes neue Serie ist der Wahnsinn! Ihr werdet sehen, die Ideen wachsen und wachsen….Hier habe ich die große Fisch-Applikation auf blauem Popeline gestickt und dann aufgenäht….Achtung! Den Fischkopf für zwei sich zuschwimmende Fische einmal spiegelverkehrt sticken, sonst ist einer falsch herum und es muss nochmal gestickt werden wie bei mir ;o) Den Extra-Fischkopf habe ich einfach auf das Shirt gestickt und mit bunten Baumelbändchen verziert…wir sind ja flexibel!
Nic & Jeanette's new embroidery design is once again a must-have! Just watch the ideas unravelling before your creative eye. For the skirt I let the machine do it's thang with the big fish-applique on blue cotton and then applied it to the skirt with a straight stitch so the edges will fray in time and to give them a 3d-appeal. Note! If you want the fish swimming towards each other as is above then make sure to flip the fish head in your machine or you'll have it upside down…as was my case…which (after a bit of cursing my way) of course was no problem and I whipped up a shirt to match the skirt…
Das Top ist eine abgeänderte Yola von Farbenmix…aus Jersey…dazu das hintere äußere Schnitteil einfach im Stoffbruch zugeschnitten (das hintere Mittelteil komplett weggelassen), vorne und hinten um die jeweilige Länge verlängert (ca. 10cm bei Gr. 134)…den Halsauschnitt mit Jersey eingefasst….das Bindeband komplett einmal hinten rum und oben hinaus….fertig! Geht suuuper schnell…ich glaub ich muss noch ein paar machen….der Sommer bleibt doch noch, oder!?
Whipped-up is not an exaggeration with this top…it was sooo easy! I used the Farbenmix' Yola pattern but because I was using a knit omitted the center back piece with all the ruffle-details and cut the outer back piece on the grainfold. I added extra length of about 10cm to fit my daughter. Then I just joined the two bits, hemmed the neckline and the back leaving long strips on either side to tie up at the back….et voilá!
Dazu wieder mal ein Jeans-Röckchen nach meinem Raffrock-Schnitt….diesmal mit bequemem Jersey-Bündchen. Habt ihr gesehen? Die Kräuselnähte habe ich mit Wellen-Zierstich gesteppt ;o)) Und die Blubberblasen mussten einfach sein…dazu eignet sich das große Sterne-Punkte-Set von Farbenmix bestens….und die Glitzern so schön blau-grün-silber….
For the skirt I used my ruffle-skirt pattern…this time with a comfortable jersey-knit waistband. I so hope you noticed that I used wavey embroidery stitching on the seams because personally, I think it's pretty nifty. Nifty is also the word for the glittery bubbles those fish are producing. Wanna do it? Use the big stars'n'dots-set available at Farbenmix.

xoxo Andrea
All embroidery designs shown are protected by copyright law. These are copyright luzia pimpinella 2009. All rights reserved.